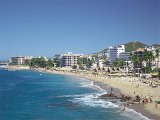 Express Links:
Mexico tourism & safety: short article
Historically, due to geography, PV is a hurricane-proof vacation choice: Mexico's Secretary of Tourism, Enrique de la Madrid, in OCT 2015 said Puerto Vallarta had had "extraordinary luck" in avoiding damage from the immensely powerful storm Patricia.
"There are some mountains that served as a barrier, and that at the end of the day is what prevented the winds from having to come through here," he said of Vallarta.

You've found the perfect vacation home for your unforgettable Puerto Vallarta holiday! Since most hotels are north of town, renting a condo in the Los Muertos Beach area is the insider's way to be part of the most requested and charming Old Town in the Romantic Zone. These private buildings are only accessible to owners and our guests who have made arrangements with us prior to arrival.

Zona Romantica is the perfect location for adventurous travelers who enjoy the culture and fun of Old Town. "Old Town is so much more fun. We love being able to walk to everything. The location is perfect" Be our guest in our private 2 bedroom Los Muertos Beach condo, or choose from several others, including a penthouse 1-bedroom. Enjoy the best spot in town to enjoy a panoramic view at sunset (The rooftop deck!). The LP building is a favorite location in Puerto Vallarta, so please check our Availability Calendar far in advance to ensure your chosen dates.

Don't need to be right on the beach, or want less than beach property rates, but want to stay in the Playa Los Muertos area? Choose a 1BR CDO unit, built in 2003 with top-notch amenities and a full complement of appliances including dishwasher and washer/dryer. Enjoy modern luxury and a tranquil oasis in the heart of Old Town Vallarta.

Nuevo Vallarta provides a resort experience, for maximum relaxation. With restaurants on-site, you can even opt for an all-inclusive package and just soak it all in. Choose from a top floor 2BR with rooftop terrace and private dipping pool for up to 7, or a beachfront 1BR for 2-4

Click on an image above to get all the unit details,including availability calendar, extensive photos, and contact/rate info.